Say Goodbye To Pain With The Magical Laser Therapy For Pain
Are you tired of dealing with chronic pain and discomfort? Do you find yourself relying on painkillers just to get through the day?
If so, you're not alone. Millions of people suffer from chronic pain due to an injury, medical condition, or simply the wear and tear of everyday life. And while many treatments are available, they often have unwanted side effects or require invasive procedures.
Fortunately, we offer a cutting-edge treatment that uses low-level laser light to penetrate deep into the body and stimulate healing at the cellular level. 

And you know the best part? It's painless, quick, and has no side effects. If you're ready to say goodbye to pain and hello to a better quality of life, Get laser therapy for pain from the South Texas Spine & Joint Institute.
What Laser Therapy Is And How It Works
Laser therapy, or photobiomodulation therapy, is a medical treatment that uses low-level lasers or light-emitting diodes (LEDs) to produce therapeutic effects by interacting with tissues. The light from the laser or LED is absorbed by the cells, stimulating biochemical reactions, reducing inflammation, and promoting cellular repair.

Laser pain therapy can treat various conditions, including pain, inflammation, wound healing, and tissue repair. It is often used in physical therapy, chiropractic care, and sports medicine. The therapy is generally considered safe and has minimal side effects, although it may not be appropriate for everyone.
Types of Pain that Laser Therapy Can Treat
Welcome to our chiropractic clinic, where we offer laser therapy for pain as an effective treatment. Laser therapy is a non-invasive, painless, and drug-free treatment that uses specific wavelengths of light to stimulate the body's natural healing process.
Laser Therapy For Back Pain
Laser therapy can help reduce inflammation, promote tissue repair, and improve circulation in the affected area, decreasing pain and improving function.
Laser Therapy For Neck Pain
Laser therapy can help alleviate pain and stiffness in the neck by reducing inflammation and increasing blood flow to the affected area.
Laser Therapy For Shoulder Pain
Rotator cuff injuries, frozen shoulders, or arthritis can cause shoulder pain. Laser therapy can help improve shoulder mobility, reduce pain and inflammation, and promote tissue repair.
Laser Therapy For Sciatica
Laser therapy can help reduce inflammation around the sciatic nerve, promote tissue repair, and improve circulation in the affected area, decreasing pain and improving function.
Laser Therapy For Arthritis
Arthritis is a chronic condition that can cause joint pain and inflammation. Laser therapy can help reduce inflammation in the affected joints, improve circulation, and promote tissue repair, decreasing pain and improving function.
Contact our chiropractic clinic today to schedule a consultation and learn more about how laser therapy can help alleviate your pain and improve your quality of life
Benefits of Laser Therapy
Our chiropractic clinic offers laser pain therapy as an effective and safe treatment option for various conditions. 
Laser therapy is a non-invasive treatment that uses specific light wavelengths to penetrate the skin and target the affected area. This means that patients can return to their daily activities immediately after treatment.

Laser therapy works by reducing inflammation in the affected area, which in turn reduces pain and discomfort.

Laser therapy also enhances tissue repair and regeneration. 

Unlike medications or invasive procedures, laser therapy is a natural and safe treatment option with no adverse side effects.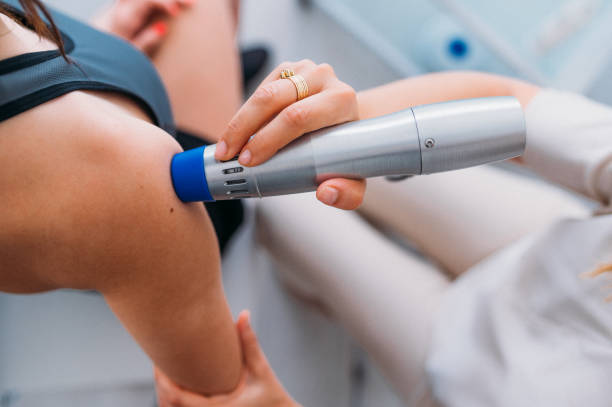 Why Choose Our Laser Therapy Services
Our chiropractic clinic, South Texas Spine & Joint Institute, takes great pride in offering our patients top-quality laser therapy for pain services. Our highly qualified and experienced laser therapists ensure you receive the best care possible.
In addition to our skilled staff, we utilize state-of-the-art equipment to deliver safe and effective laser therapy treatments. Our commitment to using the latest technology ensures you receive the most up-to-date and advanced treatments.
Whether you're seeking relief from chronic pain, injury recovery, or other conditions, our laser therapy services can provide the healing and relief you need. Don't hesitate to reach out and schedule your appointment today.
If you are in pain, schedule a treatment today.
South Texas Spine & Joint Institute can help get you back on track.
5 Reasons You'll Love Deep Tissue Laser Therapy
Frequently Asked Questions
Laser therapy treatments must be administered directly to skin, as clothing or topical dressings interfere with delivering light to tissues beneath the skin. Patients will feel a soothing warmth as the therapy is administered. Many patients receiving LightForce Therapy Laser treatments report enjoying the experience, especially when the massage ball treatment head is used to deliver what is often referred to as a "laser massage." Patients receiving treatments with higher-power lasers also frequently report a rapid decrease in pain. For someone suffering from chronic pain, this effect can be particularly pronounced.
With LightForce lasers, treatments are quick, usually 4-7 minutes, depending on the size, depth, and chronicity of the condition being treated. High-power lasers are able to deliver a lot of energy in a small amount of time, allowing therapeutic dosages to be achieved quickly.
Patients generally see results after 3 to 5 treatments. Clinicians will develop specific plans of care based on the diagnosis and the tissues that are involved. Chronic conditions often require more therapy than acute.